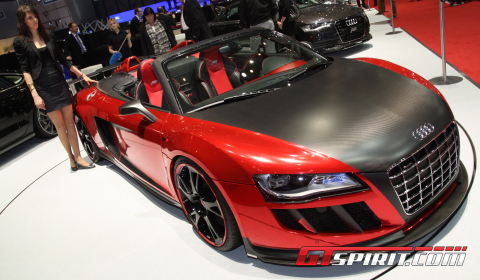 As announced earlier this morning the guys from ABT brought this R8 GTS to the Geneva Motor Show. ABT focussed on weight reductions and the perfect distribution of weight combined with a performance improvement up to 620hp out of the stock 5.2 liter FSI V10 engine.
Eye-catching is not only the colour combination of red and carbon, but also the fact that this ABT R8 GTS is a convertible. The complete package comes with a new front skirt, rear skirt, windscreen frame cover, red air scoops, engine bonnet and the mirrors made of carbon fiber reinforced plastic.
Additional changes are the ABT suspension setup, sports exhaust system providing a nicer tune and the diffuser, rear wing and trapeze-shaped rear skirt. The front spoiler plate is adjustable, same goes for the rear wing.
What are your thoughts on this stunning looking roofless sports car?