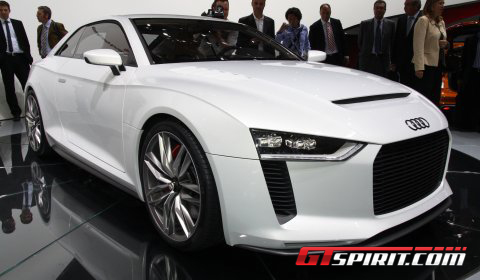 The Audi Quattro concept revealed at the 2010 Paris Motor Show was shown as a celebration of 30 years of quattro-driven Audis. According to company sources and British car magazine Autocar, a limited series will enter production in 2013.
The setup includes a lightweight, 402bhp, all-wheel-drive coupé based on a version of Audi's aluminium spaceframe chassis and a body using carbon fiber reinforced plastics. Engineers at Quattro GmbH have built an initial test mule of the coupé which weighs 300kg less than the RS5. They saved weight by including a 150mm reduction in the wheelbase and a lighter interior.
The final production model will weigh as little as 1300kg, at least 225kg lighter than for instance the Audi R8 sports car.
Stay tuned for the first official details and more information from within Audi.