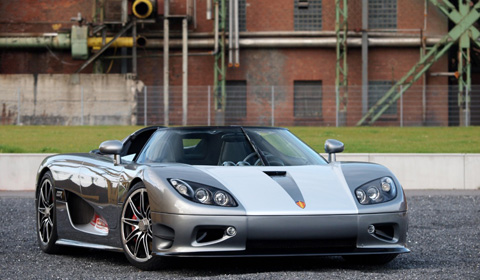 The owner of a Koenigsegg CCR was not entirely happy with the power of his Swedish supercar. He wanted to improve the drivability and the appearance. Therefore he contacted Edo Competition.
Edo Competition emphasized on the setup of twin superchargers, which force-fed the V8 engine. With some assistance from Koenigsegg, the tuner from Ahlen, Germany modified the drive ratio. Also the ECU was remapped to accommodate the hardware changes and the six-speed gearbox was enhanced as well.
These modifications are aimed to increase the power output while maintaining a broad torque curve over the whole rev range. With the new drive ratio the engine hits its torque peak of 900Nm earlier and puts out up to 891 horsepower, depending on the level of tune. In order to ensure long term reliability of the superchargers, the engine redline was lowered to 7,200rpm. Full boost pressure is now available from just 3,700rpm all the way up to 6,000rpm, which should result in a even more impressive acceleration.
The car does 0 – 100km/h in 3.2 seconds, 0 – 200km/h in 9.7 seconds and the 300km/h is will reached in 23 seconds. The top speed was reduced slightly from 394km/h to 390km/h.
The exterior and interior received a makeover as well. The wheels received a coat of charcoal paint. The updated front with auxiliary lights now resembles the later CCR models, and the Alcantara material that was used throughout the Koenigsegg's cabin provides a more luxurious feel. The center console was redesigned to accommodates a new infotainment system including a reversing camera as well as a custom-made pouch for the immobilizer remote. A safety system now informs the driver about tire pressures and temperatures.
It seems like that Edo Competition has done it again, they managed to change an already impressive car into an even more impressive car.