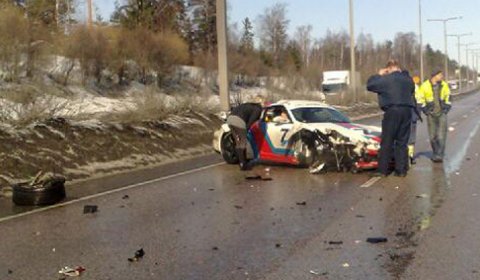 According to Finnish newspapers a Porsche 997 GT2 Martini Edition was crashed yesterday in Finland. The Iltalehti, Finnish evening paper, reported that a racing Porsche rolled over twice in Helsinki after hitting a truck.
At the time of the accident there were a driver and a passenger in the car but they both survived uninjured. The crash happened on a dual carriageway (named Hämeenlinnanväylä) about a kilometer from one of the busiest roads in Finland, Ring 1.
As seen in the photos the right front suffered the most damagedand also the right wheel was ripped off. There is some speculation that one front wheel came off before the accident but this is not confirmed yet. The duty officer said that they are investigating the crash. Alcohol didn't play any role in this crash.
The car is dubbed "race-Porsche" by the papers because of the decals. And yes, the 335km/h on the license plates is the top speed. Last year the plates still read kmh-330.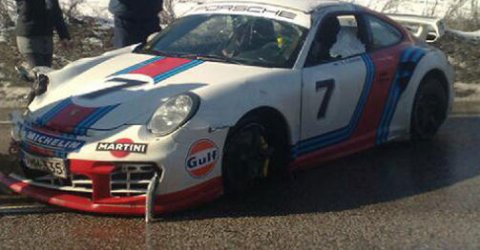 The video below shows the German sports car from Zuffenhausen in better times.