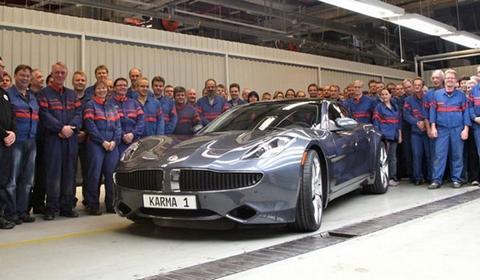 Fisker is a hybrid sedan where some of us are looking forward to. The Karma has the looks of a sportive sedan and that it will perform decently doesn't create any doubts either.
After the official prices of the Karma got released at the end of last year we can tell you now that the first Karma sedan came out the production hall in Uusikaupunki, Finland. The company is planning to sell the first cars in the United States, but we can expect to see first models by the end of April in Europe.
Fisker spokesman Roger Ormisher said:
We're going to be ramping up very slowly, very carefully to ensure quality. This year we want to get over 7,000 deliveries.
The modern looking sedan features an aluminium frame and body panels with power coming from a hybrid drive-train that includes two 150kW electric motors that equal a total output of 403hp. The 2.0 liter turbo petrol engine is mounted at the rear and creates 260hp.
That power enables the Karma, in electric-only mode, to reach a top speed of 153km/h and do a sprint from standstill to 100km/h in just 7.9 seconds. When putting the Karma in hybrid Sport mode these figures improve to 5.9 seconds and 200km/h.