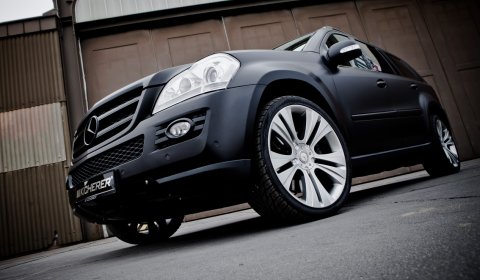 German tuner Kicherer has released their Kicherer GL 42 Sport Black program. The special edition based on a Mercedes-Benz GL 420 CDI is powered by a 4.2 liter V8 common rail turbo diesel engine.
In the series state, it has 306hp and 700 Newton meters as maximum torque. The performance improvement by the Germans provides the GL 42 Sport Black with 380hp and 900 Newton meters. The additionally installed PowerConverter also sharpens the electronic gas pedal characteristic curve, causing the heavy vehicle to react more spontaneously to acceleration commands. The two end pipes of the two-pipe sports exhaust system give off a deeply evil roar.
The serial Airmatic chassis has a more sportive characteristic curve. The Vogue wheel set consists of 10×22 inch wheel rims and XXL size 295/35 R22 tyres.
The tuner retrofitted the GL 42 Sport Black, which is completely covered in matte black exclusive foil, with its own off-road package. The grille and all the Mercedes stars and decorative strips are now black. On the inside they installed a contoured ergonomic sports steering wheel.