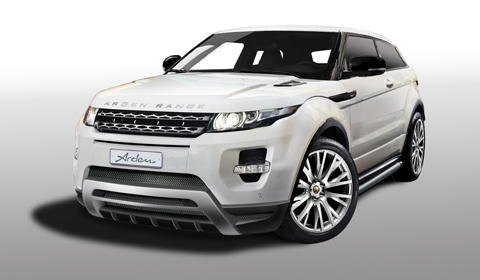 Arden have unveiled the first tuning plans for the upcoming Range Rover Evoque. Upgrades to the power and aerodynamics have been applied giving the AR8 City-Roader a mix of sporty youthful design and optimum performance.
Arden will apply a front and rear apron with side skirts and an optional illumination pack. A handmade stainless steel exhaust system has been fitted. In conjunction, a high performance catalyst helps boost the 2.0 liter turbo petrol engine by 30hp to 270hp.
Arden Dakar II rims will be fitted. A stainless steel plaque that includes your personal lettering and can be placed in a specially designated hollow. Arden can provide an Arden E-Solutions audio package, which has almost no limits to your personal requirements.