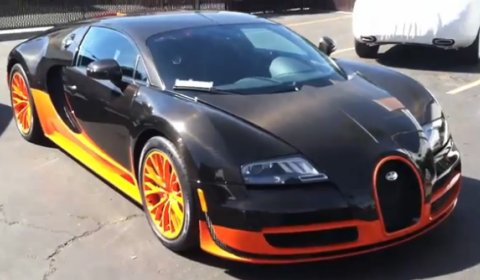 The first Bugatti Veyron Super Sport has crossed the Atlantic Ocean and touched down on United States soil. It is the first of only five that will head over to the States. Limited to 40 pieces, the other 35 will be sold across the world. The world's fastest roadgoing car is in the safe hands of Californian prestige automotive dealer Symbolic Motors.
Just a small recap. Thanks to four enlarged turbochargers and bigger inter-coolers to boost the power of the 16-cylinder engine, the Super Sport has a total power of 1,200hp. The torque is a mighty 1,500Nm. The top speed is electronically limited to 415km/h to protect the tires, the Veyron Super Sport is capable of going even faster. During tests this car reached a top of 431km/h, resulting in a new landspeed world record for production cars. The Veyron Super Sport needs just 2.5 seconds to reach 100km/h, 7.3 seconds to hit 200km/h and 16.7 seconds to reach 300km/h.
The video below shows a walk-around of the very first Bugatti Veyron Super Sport in the United States.
[Video via YouTube channel Symbolic Motor Car Company]