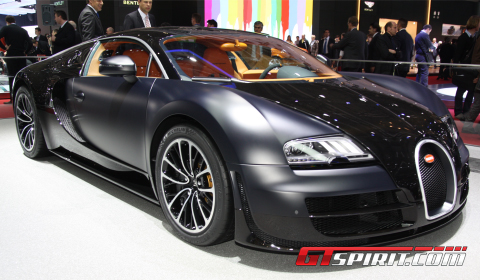 The Bugatti Veyron is the benchmark for modern day supercars and the Bugatti Veyron Super Sport is the result of further developments, becoming the pinnacle in automotive engineering. This amazing car was present at the Geneva Motor Show and so was GTspirit.
The Bugatti Veyron Super Sport made its first public appearance in August last year. Limited to 40 pieces, this hypercar offers a stunning set of specifications. Thanks to four enlarged turbochargers and bigger inter-coolers to boost the power of the 16-cylinder engine, the Super Sport has a total power of 1200hp. The torque is a mighty 1500Nm.
The top speed is electronically limited to 415km/h to protect the tires, the Veyron Super Sport is capable of going even faster. During tests this car reached a top of 431km/h, resulting in a new landspeed world record for production cars. The Veyron Super Sport needs just 2.5 seconds to reach 100km/h, 7.3 seconds to hit 200km/h and 16.7 seconds to reach 300km/h.
Perhaps even more impressive than accelerating is the braking. It takes less than 5 seconds to get from 0 to 100km/h and back to a complete standstill. The whole braking process takes no more than 31.4 meters or 2.3 seconds – that is less than the car needs to get from 0 to 100km/h. And even the 400 to 0km/h deceleration is a matter of less than 10 seconds.
What do you think, is this car still the pinnacle of automotive engineering? Feel free to share your thoughts.