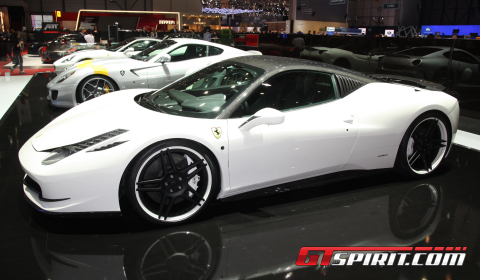 German tuner of Ferrari's and Maserati's Novitec Rosso has released a video showing their latest creations at the Geneva Motor Show 2011. Of course, we have covered the trio before last week, so the video below is just a recap.
The Novitec Race 606 is based on the Ferrari California. It's an updated package to the California presented at last years show.
The Ferrari 599 GTO 888 includes new and optimized engine components, a new exhaust and new extremely light forged wheels. Twin-compression on the six-liter V12 means that the power output is now higher. Power outputs jump from the standard 670hp to 888hp at 8,400rpm and peak torque increases by 242Nm to 862Nm at 6,600rpm.
Power output on the Novitec Rosso 458 Italia is increased to 609hp at 9,100rpm and 569Nm of torque at 5,400rpm. This has been achieved by the new high-performance exhaust system, made from the same Inconel material also used in Formula 1 racing and a new carbon fiber airbox. The package also includes a wide variety of exterior parts and two interior extras.
Each tuning program offers more than we have discussed here. Check out each single story via the corresponding links.