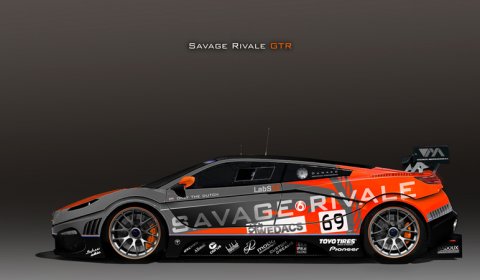 A few days ago a Savage Rivale Roadyacht GTS was spotted on a Dutch highway and three weeks ago Savage Rivale officialy presented the GTR, a race version of the Roadyacht GTS. Today the news concerning the Dutch manufacturer continues as it announced that the first GTR has been sold and will be presented at the Monaco Yacht Show in September this year.
The Savage Rivale is designed as an unique and fast four-door convertible. This idea resulted in the Roadyacht GTS, which is powered via the rear wheels by a 6.2 liter V8 LS9 engine from Corvette which produces 670hp and a torque of 730Nm. This makes it possible to accelerate from 0 to 100km/h in 3.4 seconds and a top speed of 330km/h. Prices of the Savage Rivale Roadyacht GTS starts at € 411,750, excluding taxes.
As a two-door raceversion of the GTS, the GTR is focused on high performance and the driving experience. This experience and performance will be enhanced via a superlight and strong chassis, weighing just under 115kg which will be combined with the latest aerodynamics. Due to the weight of under 1,000kg and a power of more than 700hp, the GTR is faster than the GTS. The GTR will be limited to only 69 units and the production is only on request.
Savage Rivale will also be present at the Top Marques Monaco show from the 14th till the 17th of April, where they will show the new white Roadyacht GTS.