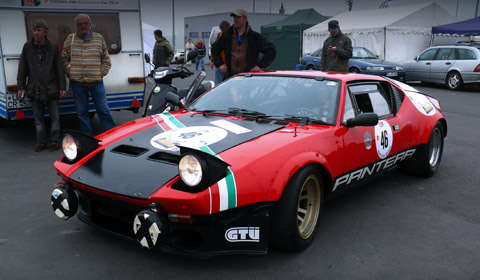 One of the surprises of the Geneva Motor Show was the reincarnation of De Tomaso. The Italians presented a five-door crossover vehicle with all-wheel drive named the Deauville. Now De Tomaso has announced that the legendary Pantera is set to return before the end of the year.
De Tomaso Pantera was a sports car produced from 1971 to 1991. The first Panteras were powered by a 5.8 liter V8 taken from Ford, which produced 330hp and could take the car to a top speed of 256km/h. The engine of the Pantera was replaced by a 305hp strong 5.0 liter V8 in 1990, but of this latest version of the Pantera only 38 were produced. Nevertheless, especially in the early days the Pantera was a success. A total of 7260 Panteras left the factory and most of them went to the United States where roughly 5500 cars were sold.
De Tomaso will unveil the new Pantera at the upcoming Los Angeles Motorshow in November. This car will be second addition of the De Tomaso line-up, the third one will be a limousine which will be launched in 2012. Since De Tomaso is working on a 550hp V8 for the Deauville we hope this engine will be placed in the new Pantera making this car a true successor of the legendary supercar.
[Via PistonHeads]