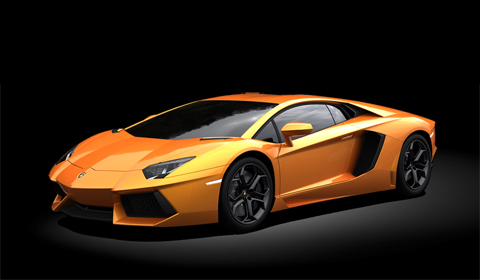 The last couple of days we have seen a lot of pictures and information about the latest flagship of the Lamborghini fleet, the Aventador LP700-4. The first images released showed an Aventador colored red, and at their Geneva stand the Italians also showed the supercar in two other colors.
Many car manufacturers are offering the possibility to configure your dream car online. Now Lamborghini has launched a configurator where you customize your Aventador by choosing from a palette of colors in standard, metallic, matte and pearl finishes.
For the exterior, a transparent engine bonnet and a T-shaped engine covered in carbon fiber are optional. Shiny black alloy rims are also possible, just like yellow rear suspension springs and yellow, gray and orange brake calipers.
For the interior compartment you can choose for a single or a two-toned colored trim with or without contrasting stitching. Another possibility is to choose for a full leather or a leather/alcantara interior. Fully electric and heated seats are optional, so is a multifunctional steering wheel to control the optional Lamborghini Sound System and wireless control system which could be used to activate devices such as garage door openers, controlled lighting, gates and locks. To make parking easier, a parking assistance consisting of a rear-view camera with front & rear parking sensors could be chosen as well.
Click here visit the Lamborghini configurator. And how would you ideal Lamborghini Aventador LP700-4 looks like? Feel free to share your thoughts or the result in our forum!