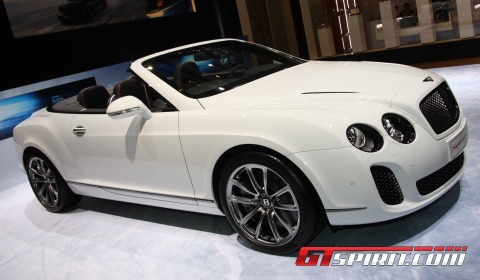 In honour of setting the world speed record on ice, Bentley has officially presented a limited edition of Continental Supersports Convertible at the Geneva Motor Show today.
The Bentley Continental Supersports 'Ice Speed Record' Convertible is powered by a 6.0 liter W12 which provides 631bhp and 800Nm of torque. This special version of the Bentley Continental Convertible accelerates from 0 to 100km/h in 4 seconds, 160km/h will be reached in 9.4 seconds and the top speed is 325 km/h.
Bentley announced that it will build maximum 100 Ice Record Convertibles which are available in three exterior colours. All cars feature a red accented detailing, also on the 20 inch rims and bonnet louvres. The roof is colored in dark grey with a semi-transparant look.