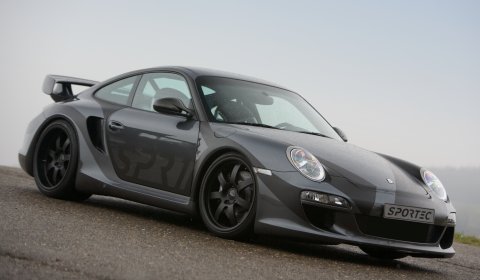 Sportec has added a new chapter to the SPR1 story named the SPR1 FL. A decent amount of upgrades have been added to the vehicle, such as a semi-sequential gearbox.
Each of the four continuously driven wheels of the SPR1 have a performance of 214.5hp. This equates to a not unsporty Golf GTI motorisation per wheel and a total performance of 858hp. The high speed 3.6 liter boxer engine with biturbo charger was additionally fitted with a smooth flow inlet system with two injectors per combustion chamber, titanium connecting rods, a valve exhaust system, a continuous camshaft phasing, a carbon ram air induction system, a high performance intercooler and two hybrid turbo chargers.
Each electronic element in the engine was individually tested on Sportec's four wheel drive test bench and tuned to meet the new data. The result if this fine tuning on the SPR1 makes a top performance of 858hp at 8,200rpm possible and a torque of 800Nm – that is already available at 4,800rpm.
To convert the power to the road an optimised high performance clutch, four–wheel drive system and a limited slip differential with 60/60 locking effect are available. The SPR1 achieves a standard sprint from 0 to 100km/h in only three seconds. The 200km/h mark is reached in under eight seconds and the 300km/h threshold is done after 18 seconds. The driving resistance makes an end to the sprint at 380km/h.
The rear of the vehicle was overhauled aerodynamically, the rear lights converted to LED technology and the wing mirrors of the sporty high performer from Sportec are now also larger.
The ultimate tuning project will have its official debut tomorrow at the first press day of the Geneva Motor Show.