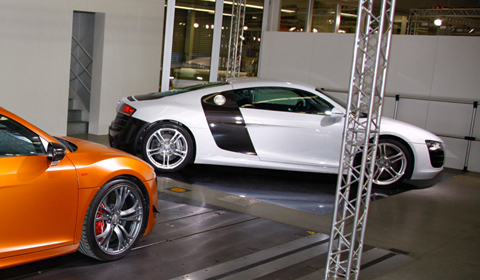 Audi is working on a new lightweight variant of its supercar, the R8 featuring an even greater usage of lightweight composites.
During a presentation at the Audi Lightweight Design Center in Neckarsulm, Germany the manufacturer teased the audience with an upcoming R8 supercar variant codenamed 'NF'. Audi showed journalists a computer rendering of the passenger cell of the NF during a presentation on the progression of carbon fiber and other lightweight materials in Audi vehicles. Audi didn't allow cameras into the presentation, instead they handed out approved photos.
The Audi R8 NF was featured on a timeline describing the proliferation of carbon fiber in vehicles such as the R8 and highlighted the carbon fiber engine cover on the R8 Spyder, the roof of the R8-based E-Tron and various pieces found on the limited-run R8 GT, amongst others. The NF, or more specifically, the passenger section was marked at 2014 on the timeline. The image would suggest that the NF would feature a new carbon fiber rear bulkhead between the seat backs and the engine compartment and showed the carbon-fiber piece extending into the lower B-pillars. Audi would not elaborate on the image.
The white R8 5.2 V10 pictured above is a lightweight prototype, which could be related to the NF project. This car has had multiple pieces of the bodywork replaced with carbon fiber including the bumpers and the decklid. Audi had also replaced the roof and floor pans with carbon fiber, as you can see on the picture below. According to Audi, this prototype weighs twenty percent less than the aluminum-bodied R8. Audi engineers also unveiled a crash-tested prototype R8 similar to the white car that also featured carbon fiber roof rails, an important structural member.
Just like the new Lamborghini LP700-4 Aventador, carbon fiber is becoming more and more important in the development of lighter cars. An important statement by the Germans reflects this; Each new Audi model will be lighter than the one it replaces.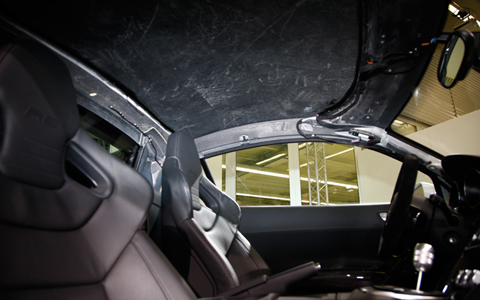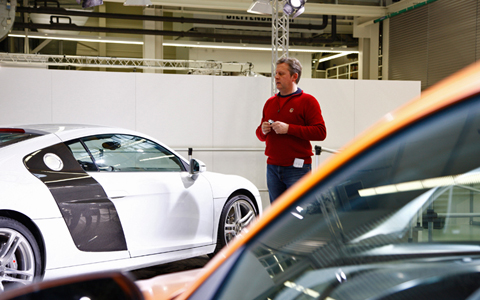 [Via Automobilemag]