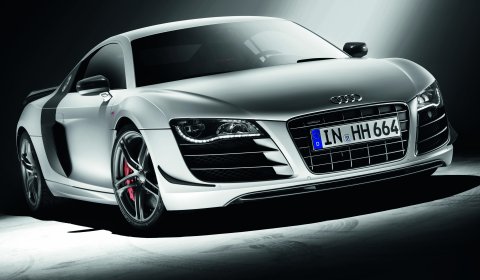 German car maker Audi has presented a limited-production version of its R8 sports car, named the R8 GT. The output of its 5.2 liter V10 engine has been increased to 560hp (412kW). The vehicle weight has been reduced by roughly 100 kilograms (220lb). Resulting an in acceleration from zero to 100km/h (62mph) in 3.6 seconds and a top speed of 320km/h (198mph).
The R8 GT has a thinner glass windshield and polycarbonate rear windows. The German engineers replaced many aluminum body panels with carbon fiber. The R8 LMS genes of the race version are now coming to the street – in the R8 GT. The exclusive series is limited to 333 units. Each R8 GT has a badge with its production number on the shift lever knob. Furthermore, there are badges all over the place showing its identity.
The price in Germany is € 193,000 ($ 256,000). However, no mention is made of any US or Arabian availability.