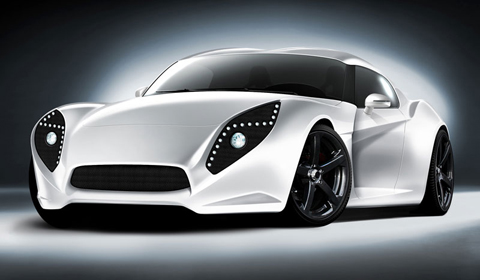 Juliani Automobili from Milan has developed a new Italian supercar: the Juliani Veela.
Presented as a 2+2 coupé, this rear wheel powered car is built on a space-frame chassis and a fiberglass bodywork. This model also features an independent front and rear suspension, with anti-roll bars for both axles, and adjustable dampers. The Julia Veela measures 4550mm in length, 1920mm in width, 1240mm in height and the wheelbase is 2620mm. With a trunk capacity of 520 liter this car will be suitable for long trips.
The engine is a 6.2 liter V8 which produces 520hp which is placed in front of the driver. With a weight of 1160kg this car has a power-to-weight ratio of 448hp/ton. This specific power is similar to the power to weight ratio of the Bugatti Veyron.
According to the manufacturer, the Juliani Veela accelerates from 0 to 100km/h in 3.4 seconds, 160km/h will be reached in 7.6 seconds and the top speed is 310km/h. For deceleration, the Juliani Veela is equipped with a Brembo braking system with 355mm discs on the front and 330mm on the rear.
The car is equipped with a six-speed manual transmission. Other features include traction control which can be disabled and a launch control system. The interior consists of Recaro seats with bespoke leather trim, and an integrated Apple iPad system for controlling the radio, multimedia system, internet, navigation and the phone. Also interesting is the optional onboard video recording system.
Stay tuned for more information.
[Via Diseno-Art]