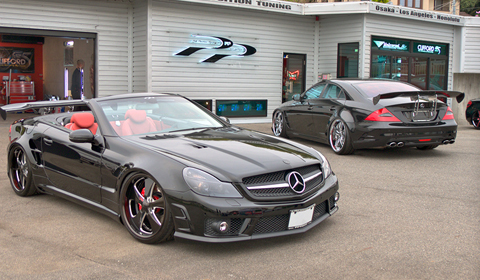 The newest members of our Overkill category are coming from Osaka, Japan and are converted by Pole Position Tuning or PPT. The two German cars shown here, a Mercedes CLS 55 AMG and a SL 65 AMG, received a widebody package including wide front and rear bumpers, wider wheel arches and custom rims.
The thing that stand out the most (quite literary) is the massive rear wing which is made of carbon fiber. While the CLS uses an aluminum wing mount, the SL uses clear plexiglass.
Overkill or not? Please share us your thoughts.
[Via Autogespot.nl and Jonsibal.com]