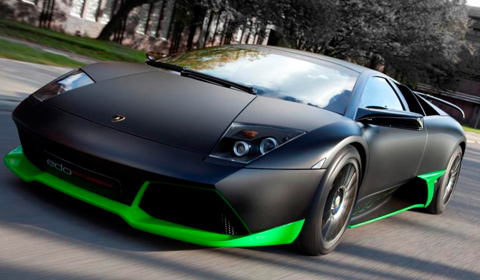 Edo Competition have released their latest creation, the 'Edo Competition Murcielago LP750'. Based on the Lamborghini Murcielago LP640, this package produces 750hp, 740Nm of torque and has a top speed of 365km/h, 15km/h more than their previous version, the LP710. This all means that it now boasts times of 0-100km/h in 3.1 seconds, 0-200km/h in 9.7 seconds and 0-300km/h in 24.5 seconds!
To achieve this level of performance the LP750 has new modified cylinder heads, a high flow airbox has been installed and the intake system has been completely revised. It now has a new hand-made intake manifold and modified air ducts which help to increase the amount and the speed of the air that is taken into the engine. The engine features some high flow catalytic converters, a more aggressive camshafts, bucket tappets which where all designed and built exclusively for the LP750.
There is also new high performance exhaust headers to go with the high performance, butterfly valve, stainless steel system with a revised exhaust tip that provides a greater soundtrack and finishes off the rear of the car. The whole exhaust system has been plasma-coated and a remote can be requested to control the butterfly valve system.
Edo have also developed a new single plate clutch to fortify the drivetrain in light of the extra power, and if you require it the LP750 can be converted from all-wheel to rear-wheel drive, which results in a 40kg being taken of the total weight.
To complete the package there is a new aerodynamics package that improves high-speed stability and has a re-designed rear wing that now has an adjustable lip spoiler. It also features a new 18/19 inch alloy high-speed wheel which will be covered by special Michelin 265/35 ZR 18 tyres on the front and 345/30 ZR 19 tyres on the rear.