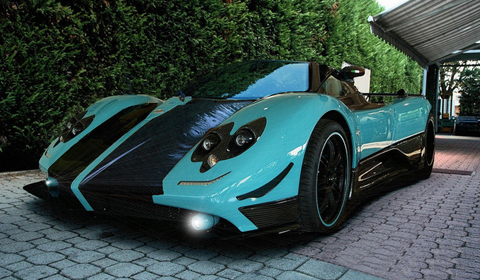 One of the exclusive one-off series of the Pagani Zonda is for sale. The Zonda Uno was built and customized for Ana Al-Thani, a member of the Royal family of Qatar. His cars are known for their lightblue color. Some other cars in his collection includes a Ferrari 599, Lamborghini Murciélago LP670-4 SV and a Koenigsegg CCXR.
The Zonda Uno has a mixed body-shape, combining elements from the Zonda R and the Zonda Cinque. Just like the Cinque, this car has a revised form of carbon fiber which uses titanium to increase strength. And just like the Zonda Tricolore, the Uno has LEDs on the front of the car. Unique are the black accents, like the darkened rear lights and the exhaust pipes.
The Zonda Uno features a 7.3 liter V12 AMG V12 engine producing 700hp which is more than the 678hp of the Cinque.
This hypercar is for sale by Auto Portrait and listed with a price of € 1,700,000, VAT excluded. For more information visit Jameslist.
It makes you wonder, what's next for Al-Thani?