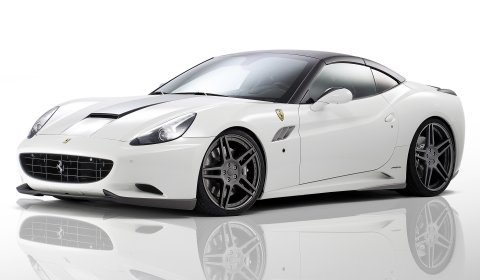 Novitec Rosso is back with a new release, which will make its official debut at the Geneva Motor Show 2011. The Novitec Rosso Race 606 program is based on the Ferrari California and includes an eight-cylinder supercharged engine and a racing suit with carbon-fiber components.
At the heart of the supercar lies the newly developed supercharged 4.3 liter V8 engine. This engine is available for the special model Race 606 and for any standard California model. The compressor system consists of a mechanical supercharger driven by the crankshaft via a cogged V-belt. It produces a maximum boost pressure of 0.4 bar. The conversion also includes a water-to-air intercooler, a newly designed intake manifold and larger injectors.
For better exhaust-gas flow the engine is fitted with a flap-controlled exhaust system with sport catalysts. The stainless-steel exhaust system features four black-coated tailpipes and offers various sound settings that are controlled by the Manettino button on the steering wheel. The driver can choose between a more subdued and a markedly sporty exhaust note. The components are coordinated by newly calibrated engine electronics.
The engine conversion bumps power output from standard 460hp to 606hp at 7,900rpm. Simultaneously peak torque jumps from 485Nm to 603Nm at 5,500rpm. The sprint from 0–100km/h takes less than 3.8 seconds. Top speed increases to 325km/h.
All parts of the aerodynamic-enhancement package are made from matte clear-coated carbon fiber. The front and rear spoilers together with the rear diffuser create an optimal aerodynamic balance. Rocker panel blades, side air outlets in the front fenders, mirror covers and the rear molding are changed as well. Also made entirely from carbon fibers is the hood centerpiece, the radiator grille, the outer skin of the folding hardtop and the taillight surrounds.
The new look is rounded out with a matte carbon fiber coating of the three-piece Novitec Rosso NF3 wheels. To further emphasize the wedge shape of the sports car the wheels were manufactured in a combination of size 9Jx21 for the front and in size 11.5Jx22 for the rear axle. The PZero tires size 255/30 ZR 21 and 315/25 ZR 22.
The newly added sport springs lower the ride height of the Ferrari by some 35 millimeters. The hydraulic front lift system is activated at the push of a button in the cockpit. It raises the front of the car by 40 millimeters and facilitates navigating speed bumps and parking garage ramps. At a second push of the button or automatically upon reaching a speed of 80km/h the front reverts to its original position.
The interior of the Race 606 can also be customized. The options include scuff plates made from the same material as the aerodynamic components and longer shift paddles on the steering wheel. Upon customer request German tuner creates exclusive interiors in any desired color.