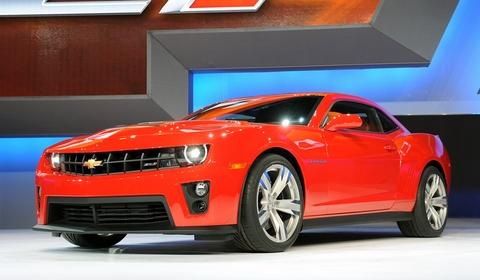 As we can expect from one of America's biggest motorshows, muscle cars will crown the efforts. After Dodge and Shelby, Chevrolet is next in line with their Camaro ZL1, announced as the most powerful and fastest Camaro ever built by the Americans.
Back in 1969 Chevrolet built the original Camaro ZL1, a performance monster originally intended for racing, featuring an all-aluminum engine displacing 427 cubic inches. Just 69 units were built, and they are highly coveted by collectors today.
The new car still hides its specifications, but Chevrolet is estimating that its supercharged and intercooled 6.2 liter LSA V8 engine will output around 550hp and 550 pound-feet of torque. The power will be sent to the rear wheels via a six-speed manual transmission using a dual-disc clutch. There's also a dual-mode exhaust system that alters the sound level and character in response to engine rpm.
Chevrolet promises to have the Camaro ZL1 in the showrooms by the beginning of 2012, and it will be available in any color offered on the series Camaro.
More information on the muscle car can be found here.
[Via Autoblog.com]