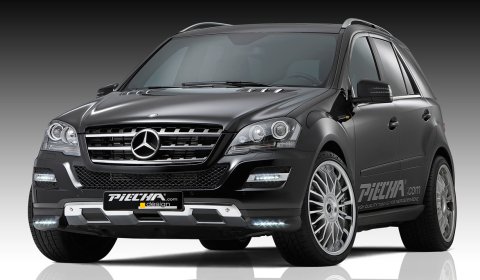 The brand-new Evorian RS-program was specifically customised by Piecha Design for the W164 M-Class and the technically closely related GL-class X164.
The SUVs are outfitted with dp1-CC Silver light metal wheel rims in three-part style with high-gloss polished stainless steel bases. They are 10×22 inches in front and a full 11.5×22 inches at the rear. The complete wheel set is complemented with Continental high performance tyres in 275/35ZR22 and 315/30ZR22 sizes.
The XXL wheels will only exhibit their full effect in a lowered vehicle, according to the German tuner. Piecha Design therefore offers a lowering set produced by H&R for vehicles with coil springs to lower the Mercedes Benz brothers by 35mm at the front and by as much as 50 at the rear. For airmatic vehicles, a Piecha ETS lowering module is available alternatively.
For the M-class front area, PIECHA Design offers LED day headlights integrated by the tuner. In vehicles with serial auxiliary headlights, the day headlight LEDs are lit at full brilliance during the day, while they dim to a light output of 20 percent with the main headlights switched on, to become additional position lights. In vehicles that already have serial day headlights, the Piecha daylight inserts light only with the main headlights switched on, and act as position lights. Both versions are TÜV approved and permissible without entry.
With the LEDs embedded in the side sills (four per side), Piecha lights the entering areas on either side of the vehicle. The tuner offers high-gloss chrome aerowings for the Evorian RS-model. The six of them increase the front area dynamics.
At the tail end of the vehicle an RS tail diffuser is installed. It is specifically designed for the Piecha Quadro-four-tube exhaust conversion. The latter consists of two chrome-plated double-tube end pieces that are simply screwed to the serial mufflers. The RS tail diffuser insert is also swapped for the original insert and matches GL and ML models after the model maintenance of 2008. The tail diffuser can also be used for vehicles with a trailer coupling. The corresponding marking is applied to the component already so that the aperture can be cut out.
If you are interested, please contact Piecha Design for more information.