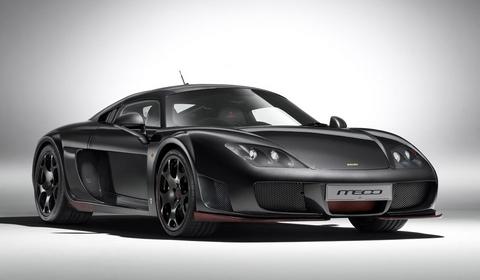 The Noble M600 has already been announced for a rather long time, but today Noble has taken the cover off the production ready M600, which is expected to start deliveries this April. With several orders taken outside the UK we can expect the Noble to be produced as both a left-hand as right-hand driven car.
We have told you before that the M600 will run on a 4.4 liter V8 engine coupled to a pair of turbochargers. Noble is offering three different versions, starting at 450bhp up to 550bhp and ending with the top-model having 650 horses under the hood. Sprinttime from standstill to 100km/h (62mph) will be done in just 3.0 flat and the sprint will continue up to topspeed of 360km/h (225mph).
Inside, the driver gets a lot of carbon fiber, eventough it is not a stripped-out track car. There's still satellite navigation, Alcantara and leather refinements. One of the special features is a big red switch marked 'TC' – Traction Control.