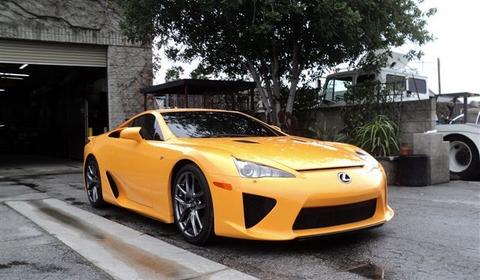 We knew the Lexus LF-A has launch control, but details on the system had not been revealed before. Now that the first supercars are being delivered to their owners world wide, information from the user guide is released and indicated how to use the launch control system.
For those who get a change to drive a Lexus LFA shortly the following information tells you how to setup and use system.
When set, launch control enables the vehicle to accelerate from a standing start at 4000rpm. Launch control uses overall optimized control that considers vehicle acceleration performance, stability and clutch durability.

Setting the system

1. Ensure that you are seated well back in the driver's seat with the seat belt fastened. Make sure that the passenger is also seated well back with their seat belt fastened.

2. Start the engine. Firmly depress the brake pedal with your left foot and release the parking brake. Continue to depress the brake pedal.

3. Select SPORT driving mode.

4. Select shift speed level 7.

5. Pull the "+" paddle shift switch to select 1st gear.

6. Pull the "-" paddle shift switch and hold it for 5 seconds. "LAUNCH" will be displayed on the meter.

7. Release the "-" paddle shift switch.

8. Depress the accelerator pedal firmly. Continue to depress the accelerator pedal. The engine speed will be automatically maintained at 4000rpm. The vehicle is then ready for launch.

9. Release the brake pedal. The vehicle will launch forward.

Once the accelerator pedal is released completely, launch control will be canceled and SPORT driving mode will be engaged.

Start-off acceleration

Start-off acceleration depends on how much the accelerator pedal is depressed.

Usage restrictions

1. Launch control can not be set if the total mileage shown on the odometer is less than 310 miles (500km).

2. Launch control can not be set until the engine and transmission are fully warmed up. Before using launch control, warm up the vehicle by driving it.

3. Launch control can not be set if there is a malfunction in the engine, transmission, drive control system or other relevant systems.

4. As launch control places a significant load on the vehicle's mechanisms,it cannot be used two or more times in succession. After using launch control, cruise at a normal speed for approximately 10 minutes to allow vehicle mechanisms to cool down.

5. To protect the systems,the number of times that launch control can be used is limited. To check how many times launch control has been used on your vehicle, contact your Lexus dealer.
[Via Lexusenthusiast]