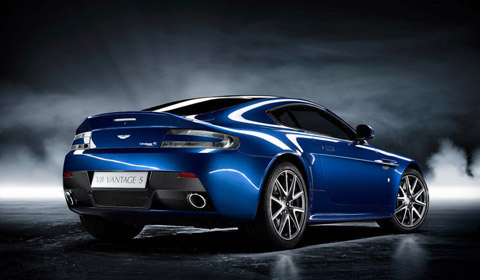 Aston Martin released images and the first information about the new Aston Martin V8 Vantage S. The V8 Vantage S should bridge the gap between the V8 Vantage and the more powerful V12 Vantage RS, a gap that was clearly illustrated by Top Gear USA earlier. The official release of the Aston Martin V8 Vantage S is scheduled for the Geneva Motor Show 2011.
The Aston Martin V8 Vantage S retains the 4.7 liter V8 engine but has an improved output of 436hp, 16hp more than the standard V8 vantage. The torque is improved from 470Nm to 490Nm. The top speed is announced to be 305km/h.
The V8 Vantage S has an all new seven-speed Sportshift 2. This is an automated manual with seven speeds and is said to shift 20% quicker than its predecessor. The gearbox itself is 24kg lighter, attributing the majority to a weight decrease of 30kg down to 1600kg overall.
Other changes include the brakes – the new "S" gets bigger discs and six pistons per wheel. The exterior looks a bit sportier and that feeling is continued on the inside where you'll find a two-tone leather interior. The Vantage S also has a sport button which improves shifting and increases the volume of the exhaust.
Prices start at £ 102,500 compared to £ 88,995 for the normal V8 Vantage. Deliveries start in March right after the introduction in Geneva.