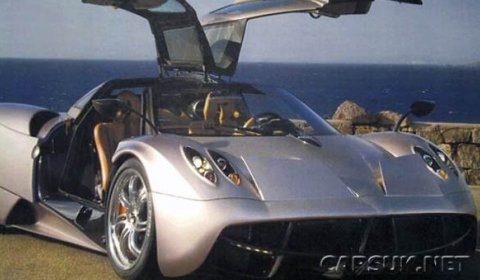 Today we showed you the fourth teaser of Pagani's upcoming hyper car, Huayra. The video was accompanied by a picture of the vehicle placed on the cover of CAR magazine's Spanish-language edition.
At first we had our doubts and some of you who have seen the scan may have wondered if it was real. As you can see from the photo above, it is! CarSuk.net has released an official press picture they were sent.
We've had the photo for a while, but didn't want to run it and break a confidence. But now the Huayra has already been revealed it makes sense to publish the actual photo we were sent. And we do tend to agree with the concensus after the Teamspeed photo ran this morning – the Huayra seems a bit of a let-down.

Maybe the Huayra will grow on us. Maybe it looks better in the flesh (no, we haven't seen the actual car). But when you consider the underwhelming design of the Huayra and the problems we know Pagani are having with both the Huayra shakedown and its production, things aren't looking brilliant for Pagani.
The official release of the Zonda successor is next week, so stay tuned for more about the Huayra.
[Via Autoblog.nl]