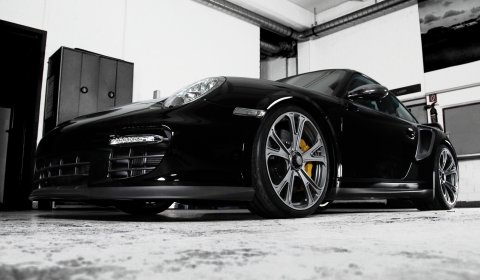 The TechArt Formula Race lightweight forged centerlock wheel – presented in November – and the TechArt noselift system are available for the new Porsche 911 GT2 RS.
Approximately 60mm of additional ground clearance at the front spoiler are provided at the push of a button to prevent grounding through hydraulic ride-height control at the front axle. The hydraulic noselift system features a trouble-free backfitting, a rapid height adjustment of approximately 10mm/s with particularly silent operation as well as fully integrated operation via a button with a status indicator at the roof console.
TechArt also offers the 20 inch Formula Race lightweight forged centerlock wheel in sizes of 8,5J x 20 ET 40 and 8,5J x 20 ET 52 for the front axle and 12J x 20 ET 50 for the rear axle for the Porsche 911 GT2 RS. The rigidity and weight ratio was optimized one more time for the Formula Race and – based on the lighter twin spokes and the connection through the centerlock – provides a weight advantages of 10% if compared to the Formula III forged wheel and a 25% if compared to a light alloy wheel.