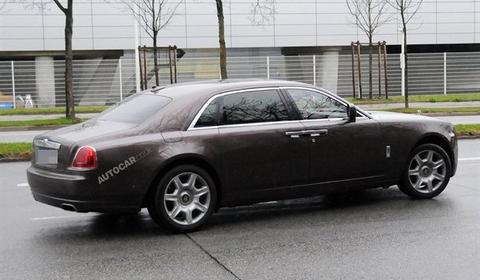 It is a known fact that Rolls-Royce is working on a extended version of its Ghost. New information states that the British car maker is working on three different variations. First there will be the long-wheelbase version, secondly a drophead coupé and finally a new coupé. Production should be fully up and running in the next three years.
The long-wheelbase Ghost adds its length after the B-pillars, requiring a new roof and elongated rear doors. The wheelbase is expected to grow by up to 150mm. The twin-turbo 6.6 liter V12 remains unchanged.
It is not yet clear in which order the three new Ghost's will debut. We expect the Ghost drophead to come first. Rolls-Royce is also exploring the possibility of greener models, according to Rolls-Royce CEO Torsten Müller-Ötvös.
We will evaluate alternative propulsion next year. We want to find out what our customers expect. Our customers don't expect to be at the forefront of technology. Our cars are about arrival and departure. They need to have long lives because they're icons. Our customers are not interested in quick change, because that costs a lot of money.
[Via Autocar]