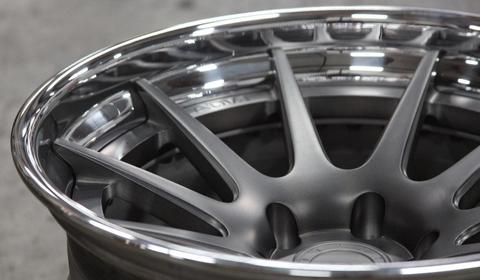 The concave wheel is with us for a decennia giving sports cars a decent exterior look. Concaved wheels are the main specialism of American tuner ADV.1 Wheels. Jordan from ADV.1 shared his way to the top with us and this is his story:
It all started back in 2007 when I drew the deep concave 3 piece forging on a napkin at a lunch meeting. I was told it can't be done, and why would I want to anyways… . A year later I had 3d renderings made showing the 3 piece deep concave forging and how it's constructed with the intent to start manufacturing. Unfortunately at the time there weren't any capable engineers or manufacturers who I worked with who could get this done so the project was put on hold.

Early 2009 I finally decided to release the renderings to the public and the public went nuts. This was a huge mistake as it prematurely opened the door for everyone to start working on their copies of the design. I was unable to make the forging once again due to incapable manufacturing at the time. Releasing the renders only started the concave race.
Later that year, in August when ADV.1 was under development, the engineering of the worlds first 3 piece deep concave forging was growing. Now with more than capable engineers and manufacturing working with me I could finally release it for nearly every application.

At the beginning of this year ADV.1 was under full production of the deep concave 3 piece forging, and 1 piece monoblocks and was slowly changing the standard for the entire industry to follow.

By now most other companies have made their own copies of it, even copies of copies made in China are available. Now it's absolutely the new standard in aftermarket wheels, there's no denying that. It's not a trend any more than deep lips were, and just like deep lips are old news, the concave profile will be too in a few years – only to be replaced by ADV.1's next industry standard.
Very nice story if you ask us. Scroll down for a gallery with their finest work!