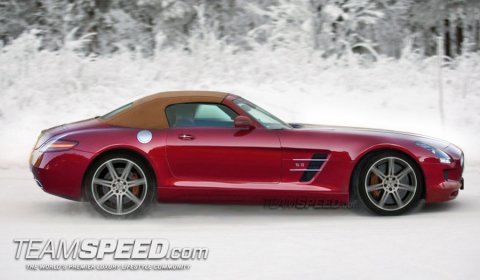 The 2012 Mercedes-Benz SLS AMG Roadster is just around the corner. The release of the roofless German sports car is set for the IAA Frankfurt Motor Show in September of 2011. AMG boss Ola Kallenius confirmed the 'rumoured' information in German magazine Auto Motor und Sport.
The differences between the Roadster and Coupé are quite simple, the two gull-wing doors are absent. They are a superb part of the retrotastic styling of the Coupé sport car, but are replaced by an electrical canvas roof on the Roadster.
The guys over at Teamspeed created a rendering from the latest spyshots while the car is winter testing. They give a good insight into the looks of the sporty spyder.