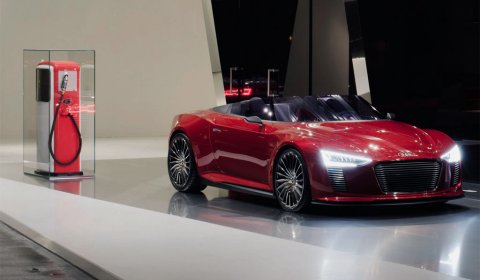 Audi has released a series of pictures showing us a red Audi E-tron Spyder, which was officially revealed in Silver at the Paris Motor Show in October.
They changed the color of the roofless E-tron for the Design Miami event, where it was used during the unveiling of the company's new e-den charging station. The design of the e-den charging station is inspired by the 1950s American gas stations, with an old gasoline pump encased in glass like a museum piece.
The E-Tron Spyder features the latest in electric and diesel technology. This results in a Spyder that weighs only 1.450kg and does 0-100km/h (62mph) in 4.4 seconds with an average fuel consumption of just 2.2 liter per 100 kilometers.