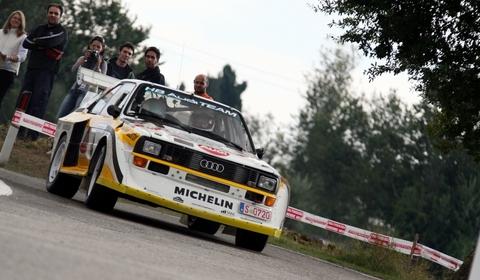 Similar to last year, 'Rally Legend' was held in the San Marino Republic. The event is known as one of the finest rally revivals in Europe.
This year's edition had an outstanding number of participants and an incredible number of world champions. Among the present legends were Juha Kankkunen, Walter Rohrl, Miki Biasion, Hannu Mikkola, Stig Blomqvist, Sandro Munari, Markku Alen, Piero Liatti and many more.
The Audi Team arrived with two official S1's and an Audi Quattro. Naturally there were some Lancia's like 037, S4 and Stratos, several Lancia Delta Integrale's, Ford Escort's, some Subaru Impreza's, Porsche's 911, Fiat Abarth's (131, 124, Ritmo) and others fantastic cars for a total of over 150 participants!
Thanks to our member Smartdriver we can share a gallery and two HD video's of the event with you!
For more high-res pictures of this stunning event please click here!