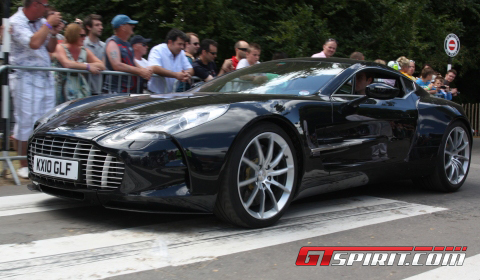 For some supercar buyers it will be a wonderful Christmas, because the first models of the One-77 will be delivered just before the holidays. However, the lucky ones do need to pay a higher amount than planned. The British car maker Aston Martin has raised the price of their very first super sports car with £ 150,000 (€ 176,000 or $ 233,000)!
Chris Porrit, chief engineer of the One-77, indicated that more than 60 of the final 77 units are sold. Not a single customer has already driven it and number 77 will leave the factory at the end of 2011.
The aluminum sheet metal parts are not interchangeable between the 77 cars, each car is unique. Each component is carefully numbered belonging to one of the cars under construction. It takes 200 man hours to produce a DB9. It will take 2700 man-hours to build a One-77.
According to the chief engineer, 60 percent of the One-77 buyers has also ordered the Aston Martin Cygnet – the £ 35,000 (€ 41,000 or $ 54,500) Toyota IQ-based city car.