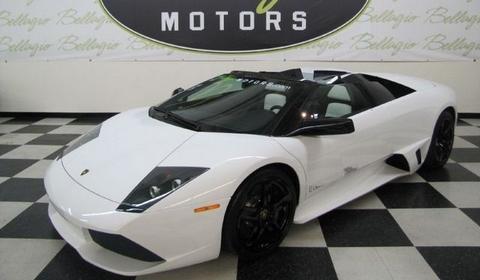 It's a known fact that the Internet is the place to find exclusive supercars for sale. The following one caught our attention. It is a Lamborghini Murciélago LP640 Roadster Versace Edition.
Back in 2008 you could get this exclusive version of the Murciélago Roadster for a total of one million dollar. The one shown here has only 1,211 miles (1,949km) on the odometer and is for sale via eBay for 'just' $ 635,770 (€ 467,700).
The Murcielago LP640 Roadster Versace Edition was part of the Lamborghini "ad personam" project, which addresses special requests from clients. The program still exists, but a Versace Edition isn't available anymore.
Just to refresh your mind we can tell you that the Versace package includes a transparent engine cover and bespoke interior. The seats are in black and white leather, while the instrument panel, doors and central console are wrapped in full grain nappa leather, hand-embroidered with the Versace Greek fret motif. The engine is the 6.5 liter V12 powerplant used in the LP640.