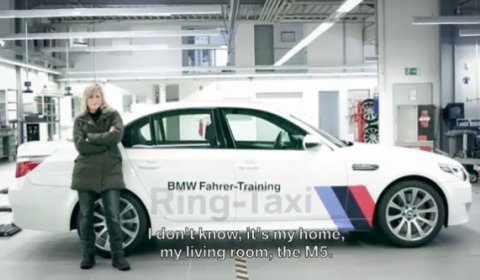 BMW unscripted is a series about people, talking about their life, passion and joy with the brand BMW. The latest chapter is about Sabine Schmitz, Miss Ring Taxi.
Born to the local hotel and restaurant owning Schmitz family, Sabine and her two elder sisters grew up in the "Hotel am Tiergarten" (in the basement of which is the Pistenklause restaurant) in Nürburg within the Nürburgring Nordschleife. Sabine came to mass public attention driving one of the two BMW M5 "Ring taxi" around the 20.8km long race track in an entertaining manner.
She has gone around the track more than 20,000 times, increasing by approximately 1200 per year. Her familiarity with the circuit earned her the nicknames "Queen of the Nürburgring" and "the fastest taxi driver in the world". She says her favourite parts of the track are Schwedenkreuz and Fuchsröhre.