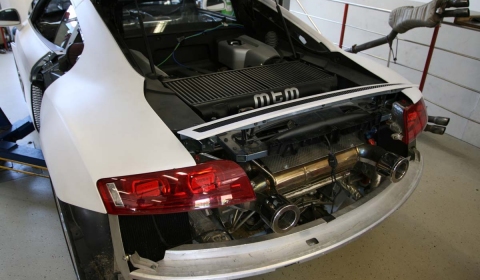 After initial pictures shown last week we can now show you the first official pictures of the brand new Audi R8 V10 BiTurbo created by German tuner MTM. The pictures show the brand new setup with the dual turbocharger fitted to the engine, the new exhaust system, different rear bumper and stripped interior. The pictures were made during the development phase.
According to MTM, the new BiTurbo is almost ready and only needs some minor external adjustments. The German spokeswoman stated that initial high speed tests at Nardo have shown an enormeous speed potential.
The official debut of the sports car will be combined with the 20th anniversary of the brand in November.
Stay tuned for more!