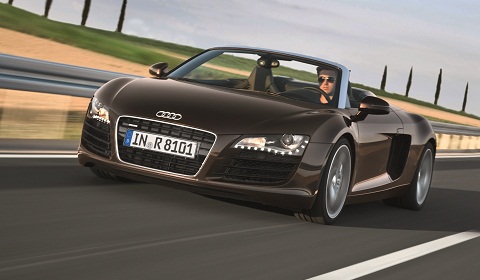 Audi officially announce the R8 Spyder V8 back in July. Back then we had limited info on the car and pricing for the European market only. Now Audi have released full details of the entry-level R8 Spyder. It will be offered to UK customers for £ 95,545 with a six-speed manual gearbox or £ 100,855 with the six-speed R-tronic automated manual transmission. Orders are now being taken with deliveries scheduled in January 2011, prices included the anticipated 20% VAT rate.
For your money you will get a V8 producing 430PS at 7,900rpm and 430Nm of torque from 4,500 to 6,000rpm. It means you will be able to manage 0-100km/h (62mph) in 4.8 seconds and a top speed 300km/h (186mph). Combined economy figures are quoted at 20.9mpg.
The roof is a fully automatic lightweight fabric design which helps to minimise weight. It takes just 19 seconds to drop at speeds of up to 50km/h (31mph). Whilst the standard spec is the same as the V8 coupé, metallic paint, electric seat adjustment, seat heating and plus Bluetooth mobile phone preparation incorporating innovative seatbelt-mounted microphones have been added.
Visually, the R8 Spyder V8 looks like a drop-top V8 Coupé.