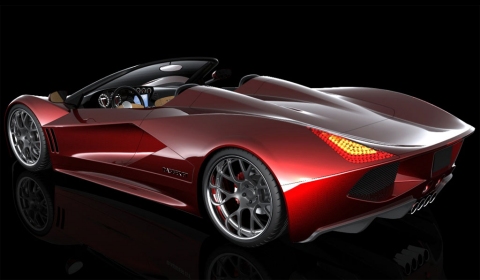 TranStar Racing – the brand behind the Dagger GT – is now taking deposits for the first twelve 2011 model year production cars. A refundable $ 1,000 deposit will reserve one of the first twelve hypercars, plus a test drive in one of the two prototypes that will roll out in early 2011.
One prototype will be the Dagger GT-X Luxury model with custom paint and interior by After FX Customs. The other prototype will be the 2500 horsepower land-speed/drag racing model, which should – according to TranStar – break the world record for the Standing Mile (253mph) and the 268mph top speed record in the Spring of 2011.
This car features a Nelson Racing Engines Twin Turbo 572 ci engine running on racing fuel. Later in August and September, 2011, the landspeed model will ease out into the desert for several attempts at 300mph. When re-fitted with traction mechanics for drag racing, the 2500 horsepower car should also set new acceleration records for the current group of so-called "supercars" including new supercar records for the quarter mile (200+ mph) and zero-to-sixty mph in under 1.5 seconds!
The Dagger GT–S Sport model will start at $ 500,000+ and the luxury model will start at $ 600,000. Options are unlimited and extra.