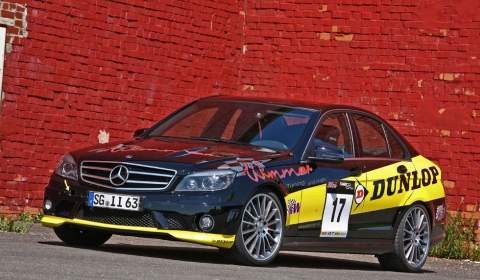 The recent project from Wimmer RS is this C63 AMG Dunlop-Performance with its 308km/h (190mph).
With its modified electronic engine command, the exhaust manifold, its improved suction tubes and the K&N sports air filter, the engine performance is driven up to 540hp (serial power 487hp). Within only 4.4 seconds the C63 sprints from 0 up to 60mph, 12.6 seconds to 120mph. At 308km/h (190mph) the speed is cut off by an electronic speed limiter.
Wimmer RS has employed a KW3 Club sports coilover chassis and the Dunlop tire Sportmaxx GT, in 235/35-19 on the front and 265/35-19 on the rear axis.