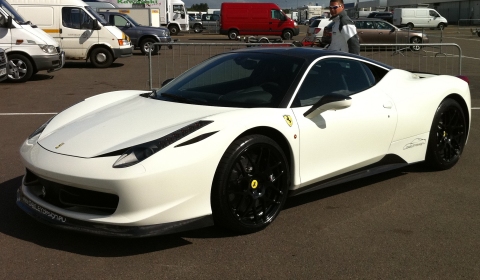 Oakley Design has announced updates to their tuning programme for the Ferrari 458 Italia. The production limitation of five pieces has now been increased to seven cars due to early demand and confirmed orders. Each one will be bearing an unique build number plaque. Outside of this Limited Edition model, individual parts will also be made available for clients who do not require the complete package.
Wind tunnel testing proved that the carbon fiber front spoiler lip adds 25kg of downforce over the front axle at 240km/h (150mph). Further internal airflow management is seen in the radiator air exit ducts beside the headlamps, which receive carbon fiber inserts and improved ducting from the radiators. Deeper, wider side sills improve airflow control down the cars flanks, as well as helping to optimize the flat-bottom effect. The longer but 10kgs lighter carbon fiber rear diffuser has deeper boundary layer fences to improve directional stability. Finally, a new rear spoiler with Gurney flap adds 23kg of downforce over the rear axle at 150mph. This works together with the underbody diffuser to reduce the Italia's overall drag by smoothing out the separating airflow.
The only exterior alterations made for cosmetic reasons are the Oakley Design carbon fiber roof panel, mirror covers and engine cover insert below the rear window glass. These are matched in the engine bay by carbon fiber panels covering the inner wings and rear bulkhead. The complete titanium exhaust system with triple outlet pipes and no bypass valve shaves a huge 32kg from the Italia's aft section, where it counts the most.
New lightweight Forged HRE wheels save a 5.0kg of unsprung weight per corner. Oakley Design will offer 9.0J x 20 inch and 11.0J x 20 inch wheels with 245/35ZR20 and 295/35ZR20 tyres, as well as one-inch diameter smaller 9.0J x 19 inch and 11.0J x 19 inch HRE Racing wheels shod with the New Pirelli Trofeo tyre in sizes 245/35/19 and 325/30/19 that meets the latest EU regulations for street legal trackday rubber.
Additional changes include an improved throttle response and output down to the larger carbon-fibre air intake box, larger ram air feeds and larger diameter white silicon pipes with Oakley Design logos connecting the air boxes to the intake. An ECU remap optimising the fuelling and ignition curves, these changes account for an approximate 10 percent power gain from 570bhp to 623bhp, while torque is up five percent from 540Nm to 573Nm. Carrying around 65kg less and with more power on tap, the factory 3.4 sec 0-100km/h (62mph) time drops to 3.0sec, while top speed has been recorded at over 335km/h (208mph).
A bespoke suspension kit for hard-core trackday drivers is also underway at Intrax, Oakley Design's suspension and development partner. Additional a matching Ducati 1198 'Carbon Edition' is available so that you have the full Italian 'package'.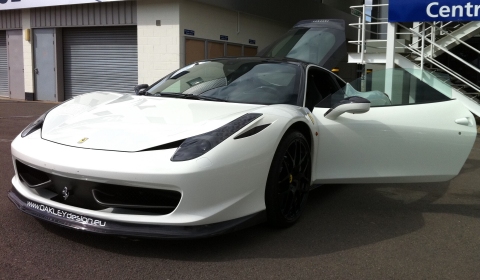 [Via Teamspeed]