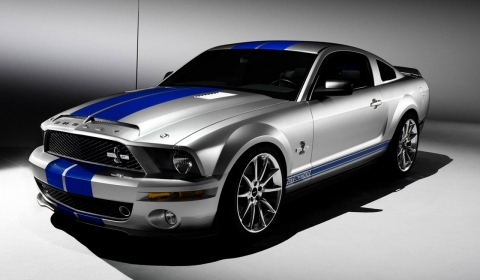 Reports have surfaced that Carroll Shelby may be working on its final new series of vehicles. Amongst these could be a $ 100,000 Shelby GT500 twin-turbo producing over 1,000 horsepower (746kW).
The engine would be mated to a six-speed manual transmission with a short-throw shifter, with paddle shifters also available. MustangsDaily.com continues its story that the car would use six-piston caliper front and rear brakes from Shelby/Baer. Other race features include a 10-point roll cage, safety loops on the unique driveshaft, front and rear brake ducts, a Ford Racing suspension and drag axles.
Rumours suggest a dual fuel system to make room for specialized racing fuel. Additionally, the special Mustang gets a widebody kit, vented hood, and 20 inch Alcoa wheels. Despite the weight savings provided by several carbon fiber bits, leather seats and premium stereo equipment were not eliminated.
But it will not stop here. Other projects could be a Shelby GTS package that might cost upwards of $ 12,000. This kit ment for the stock Mustang GT and V6, would include upgraded brakes, a new front and rear fascias, redesigned hood, and stepped up exhaust. The package is rounded off with bigger, more powerful brakes and a Shelby/Eibach suspension.
[Via WorldCarFans]