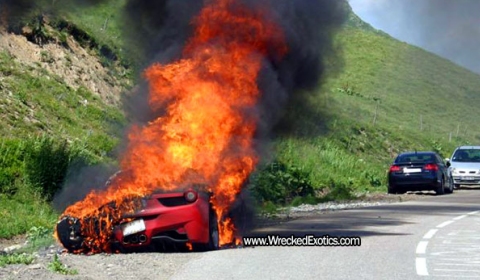 Is the recall of the Ferrari 458 Italia imminent? If we follow two FerrariChat commenters then an official recall of the prancing horse is bound to happen somewhere today.
My dealer just informed me that as of 1 minute ago he learned that Ferrari has issued a recall on ALL 458 due to the fire situation. Ferrari has determined the cause of the 458's that have caught on fire was from an adhesive that attached the heat shield under the rear fenders. The heat shields were attached with an adhesive and became flammable under high temps. The new shield will be attached rivets, not any type of adhesive. Every 458 produced will get this new part so call your dealer now and set up your appointment which of course is free of charge. Ferrari is not taking any chances and will replace this part on every 458 italia produced to date. Kudos to Ferrari for discovering this issue as this couldn't have been any easy find. Look for an official announcement from Ferrari within the next hour.
Nothing official has been reported yet by the Italians, but it seems that they have 'nailed' the problem and that the 458 fire story has found its end. Which leaves us with drivers smashing the exact same car against trees, other cars and into ditches. One problem solved, let's do the second one.
[Via Jalopnik]
Update: Our local Ferrari contacts deny knowledge of a definitive recall for the Ferrari 458 Italia but do note that the 'fires' are under investigation by the factory.