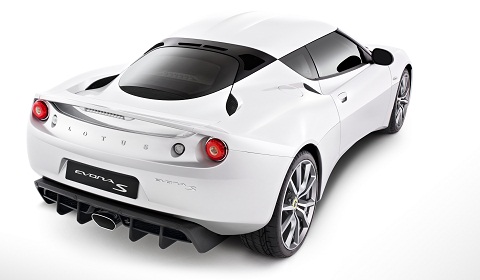 Ahead of an official release at this year's Paris Motor Show, Lotus have unveiled the Evora S and Evora IPS models. Lotus have added a 3.5 liter V6 producing 350hp to the 'S' model and a 'Intelligent Precision Shift' option in 'IPS' models.
The Toyota-sourced engine is the centerpiece of the Evora 'S'. Overall, it provides 70hp more than the standard model allowing 0-100km/h (62mph) in just 4.6 seconds and an increased top speed of 172mph. Torque is up to 400Nm. In addition to this, a sport pack is included as a standard feature. It includes a 'sport' button which allows the driver to control throttle response and activate the exhaust by-pass valve, an instantaneous increase for the rev limiter at the touch of a button and changes to the dynamic stability control settings.
Brand new cross-drilled brakes are included. The only gearbox option available on the 'S' at the moment however, is the six-speed manual we currently see on the standard Evora. The vehicle mass is also up in the new car, 1,437kg compared to the standard Evora's 1,380kg.
The Evora 'S' comes with a set of standard 19 inch alloys or an optional 19/20 inch set at an extra cost both in money and economy figures. Dany Bahar Lotus' Chief Executive Officer said of the Evora S:
It is the next level of Evora experience. It communicates with you better, the suspension setting has been fine tuned for added power and control so it responds even more to direction. It is an instinctual car, the experience is pure.
We were proud of the Evora but we're even prouder of the Evora S, I feel like it does the true Lotus experience justice. The really great thing is that as we move forward the standard Evora should also benefit from some of these developments.
The Evora IPS essentially adds an automatic box to the standard Evora. Retaining the same 280hp 3.5 liter V6, Lotus have added an automatic six-speed gearbox with Lotus developed transmission control. The new box offers both manual paddle shift and automatic drive modes both with 'sport' modes also included.
CEO Dany Bahar said:
The Evora IPS is set to broaden the appeal of the Evora and reach out to a slightly different market. We hope it will be popular with established automatic locations such as Asia, the Middle East and the US. It's been a long time since Lotus created an automatic and we have spent a great deal of time refining this one to make sure that it perfectly complements the Evora drive experience.
We are hoping this is not the new Lotus supercar that is been teased ahead of a Paris release, we will keep you posted if we hear anything else on that car!