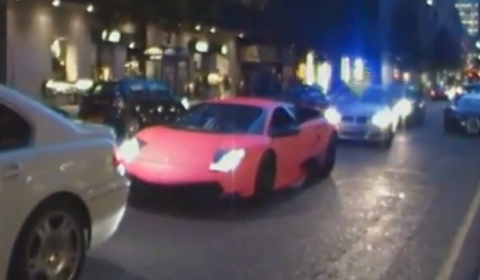 That a few Arabs are currently hitting the streets of London with their exclusive supercars is a known fact. Over the past weeks they have been spotted numerous times. One of the cars, a Pink Lamborghini LP670 SV, got impounded on July 20th after a bike revved and not the SV. The guy who filmed the whole scene explains:
Al-Thani Koenigsegg CCXR and Murcielago LP670-4 SV were just leaving Sloane street to go for a drive, as he pulls away in the SV he started to rev loudly. A few cars behind was the Matt pink LP670-4 SV which also started to rev. unfortunatly he hadn't noticed the police car behind! They pulled him over for revving, then asked to see various documents, a couple of which he did not have on him. They then said they would impound the car until the documents were produced, and reg plate changed to a UK spec one as the qatar plates are illegal!
The next video shows a police officer trying to drive the SV, not as easy as he thought!