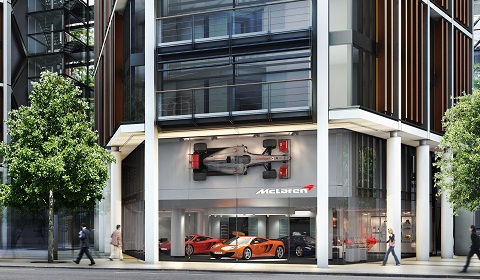 After announcing the general locations of its dealerships, McLaren Automotive have announced that McLaren London will be situated at the address, One Hyde Park. The address has been acquired by McLaren franchised dealer, Jardine Motor Group who are looking to make McLaren London the flagship dealership.
The Hyde Park developments consist of 86 apartments and three exclusive retail spaces spread across three distinctive 'pavilions'. Rumours suggest that some serious money has already been put-down to secure real-estate. According to Richard Williams of Project Grande (Guernsey) Limited, "presales now total over £870 million".
McLaren London will be placed at the centre of the developments, having secured the largest of the three retail areas. For those of you who have an intimate knowledge of the Knightsbridge area, the location between Harvey Nichols and Harrods at the top of Sloane Street puts McLaren London in a prime 'cruising' area.
McLaren Automotive's European Regional Director, Christian Marti, is quoted as saying:
"One Hyde Park has already established itself as a landmark location in London, and we are both proud and excited to be part of its future success. The McLaren London showroom at One Hyde Park will represent everything we strive for at McLaren: great attention to detail, form and function in its visual impact and atmosphere, and a focus on the customers' requirements. We worked incredibly hard to ensure McLaren is represented by the world's best retailers, and Jardine Motors Group worked incredibly hard to convince us that they were right for us in London. One Hyde Park completes the picture for both of our businesses as we move towards the launch of the 12C and our future range of sports cars."