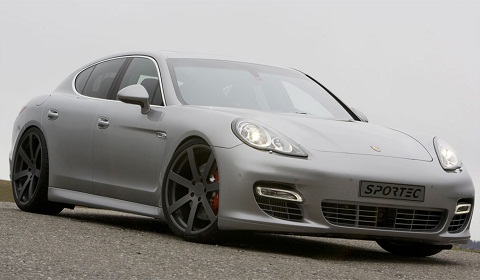 After showing you the lightly modified 560bhp Sportec Panamera from Geneva this year, we expected to see a full-blown Sportec kit for the four-door Porsche to follow in due course. We are still waiting for that car, however APS of Brackley in England announced that they will offer a second stage to the Geneva kit, offering an extra 25bhp.
The full 575bhp comes from a revised Sportec ECU remap and a cat-back stainless steel sports exhaust system. The car now delivers 575bhp at 5800rpm, an improvement of 83bhp over the factory figures, and 820Nm (598lb-ft) of toque between 3000-4250rpm, an extra 83lb-ft.
The exhaust system features quad 90mm diameter Sportec engraved stainless steel tail pipes and offers a sportier soundtrack. 'Sound throttles' enable the owner to define and switch the exhaust note depending on the situation.
0-100km/h (62mph) is achieved in a time of 3.8 seconds with the same limited top speed of 315km/h (190mph).
APS Brackley are offering the kit now for £ 7990.00 (€ 9,647) including UK taxes and fitting. A full range of accessories are available for the Panamera in addition to this kit.