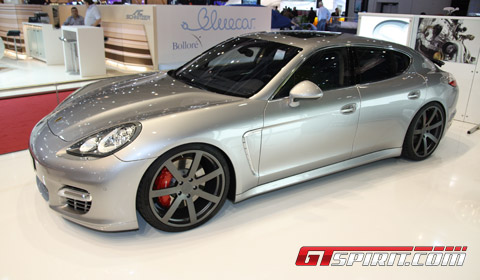 Sportec showed us their first developments for the Porsche Panamera in Geneva. The Sportec developments are always highly functional and the Panamera package is no different. The Sportec Panamera SP560 has a programmable lowering module that enhances driving characteristics, paired with the 22 inch forged Mono 7 light alloy wheels it gives the Panamera a more sporty look without overdoing it.
Sportec offers the first stage of their performance upgrades for the Panamera Turbo. This SP560 stage one consists of updated software for the ECU that has been developed and tested in-house at Sportec. The result is 560hp and 790Nm for the Sportec Panamera Turbo. Sportec also offers a new complete stainless steel exhaust system that further improves the sporty character and sound of the Panamera Turbo.
Sportec is already working on aerodynamic improvements and further performance upgrades for the Porsche Panamera. We will inform you when more parts and Sportec performance stages are released for the Panamera.