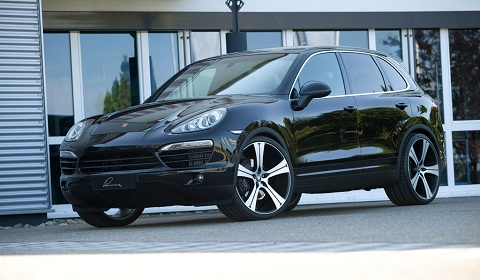 Lumma Design have just released details of their new kit for the 2011 Porsche Cayenne Diesel. The modifications offer both performance and cosmetic tweaks to the new Cayenne creating a subtle and stylish kit suitable for a variety of situations.
The modifications to performance come from ECU revisions. A plug and play kit increases power from 240hp to 276hp and torque from 550 to 630 Newton metres. Lumma Design also promise increases in fuel efficiency due to the ability to cruise at a lower rpm as a result of the extra torque.
Cosmetically, Lumma Design offer an optics engine package for the engine bay consisting of red-coated covers and a crest logo made of metal. New headlights are also offered as is a twin exhaust with four 90 millimeter pipes. Lumma Design offer a variety of wheels including the silver Mono 10×22 inch sports wheels and the two-tone Mono 11×23 inch.
As part of a comprehensive range of modifications, Lumma Design offer pedal covers and floor mats to the owners taste alongside many other interior pieces. All parts are offered with a TÜV certificate, enabling modifications to be easily registered with authorities.